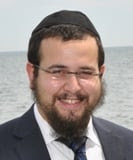 THANK YOU!
Shaina and I are so touched that the Year end Match-A-Thon once again exceeded our goal and raised $16,881 in just 48 hours! We're tremendously humbled by the outpouring of support.

To us, this means Chabad of Maple is needed and appreciated more than ever before. We promise to continue to do everything in our ability to strengthen, connect and uplift every Jew in our community. We will strengthen the new weekly Shabbat Service at the Chabad Maple Shul. We will expand the Chabad Maple Hebrew School and ensure every child in our commity has the opportunity to study, experience, and appreciate our rich heritage and gorgeous traditions. At Kids for Kindness children will increase acts of Chesed and bring happiness and laughter to isolated seniors living in our very own community.

A young girl designs a Tzedaka Pushka together with a 94 year old women at Chabad of Maple's Kids for Kindness. www.kidsforkindness.ca
Let's keep the momentum going!

If you didn't yet have a chance to give, it's not too late! Your support today will allow us to begin 2015 with a bang! Less worries about paying the bills and even more focus on igniting Jewish souls.

Two simple and easy ways you can help is by joining the Chai Club by making a modest monthly credit card contribution for 12 months. Even easier; send me an email and get your Chabad Maple Tzedaka Pushka (can) for our home and office. Deposit a few coins each weekday and before lighting the Shabbat Candles. You will be surprised what a daily Mitzvah of giving can do; and what a difference your pocket change can make!

Thank you, Thank You, Thank You

Rabbi Chezky and Shaina Deren and the entire Chabad Maple Jewish Comunity

A Huge thank you to our matchers:

Joyce Sherman
Martin Sonne
Anonymous Donor
And Thank You to to the 51 individuals! who contributed towards this tremendous campaign.

Abe David,Ilaan & Orly Borovitch, Chaim and Hila Baron, Ronen Gurfinkel, Anonymous, Leslie Farberman, Josh Lang, Niso Telyas, Zalman & Soshie Deren, Sean and Mel Sztern, Caroline Rosenblatt, Rivka Lazar, Michael Witt, Chani Lazar, Ori Gilad, Y Kabacznik, Yisroel Rosenzweig, Goldy Grossbaum, LEVI WOLFF, B Greenwald, Yael Hurwitz, Ronit & Elliott Cantor, Rodney and Carol Witz, Sarah and Shmuel Wineberg, Adam Raeburn, Raizy Mendelsohn, Eitan & Jessica Keren, Devon and Stephanie Carr, A Good Freind, Eric Taylor, Chanoch Rosenfeld, Friends of Chabad of Maple, Levi Altein, Eliezer Shemtov, Lazer Danzinger, Noach and Devorah Fox, Yaakov Gryn, Nechama Deren, Mendel Stein, Shlomie and Mushky, and all our Anonymous Donors